WiFi Cracker – How to crack Wifi password (WPA,WPA2) using Backtrack 5 By dealing with Backtrack 5 R3 to crack successfully WPA2 (WPS enabled). 9 Jan How to Crack a Wi Fi Network's WPA Password with Reaver. Info As of this writing, that means you should select BackTrack 5 R3 from the. 14 Sep Backtrack 5 Breaking WIFI WPA2-PSK Keys. Posted by . Is backtrack 5r3 still working on ??? Reply How to hack an Android [+ Videotutorial Post.] Hello!, In post Get BIOS password in Linux (Backtrack) & Windows.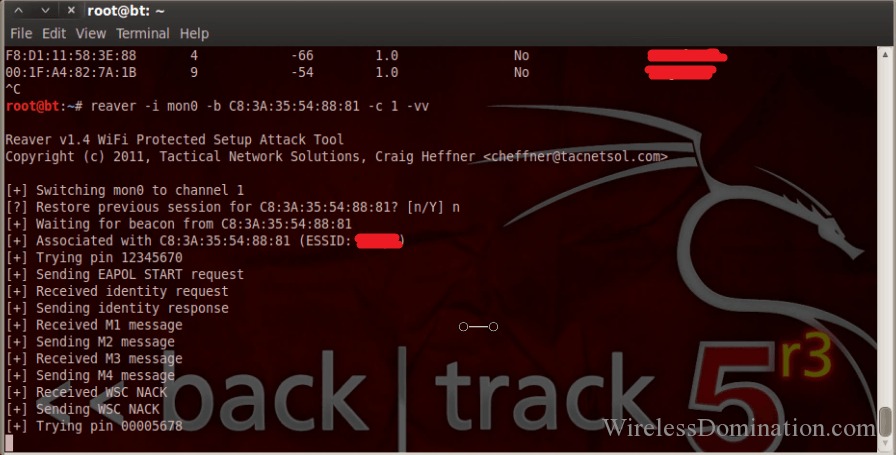 | | |
| --- | --- |
| Author: | Tojakasa Faemi |
| Country: | Pacific Islands |
| Language: | English (Spanish) |
| Genre: | Automotive |
| Published (Last): | 18 May 2018 |
| Pages: | 17 |
| PDF File Size: | 14.27 Mb |
| ePub File Size: | 10.1 Mb |
| ISBN: | 132-7-69359-898-9 |
| Downloads: | 12972 |
| Price: | Free* [*Free Regsitration Required] |
| Uploader: | Zujind |
However luck and old hardware will be on your side sometimes.
How to Hack Wi-Fi: Cracking WPA2-PSK Passwords with Cowpatty « Null Byte :: WonderHowTo
Could it be this websitenotmobile friendly? It had the hand shake spread. Finally run the following code: What is worldlist and how wifj find it? I have Kali downloaded as an iso. I only have a laptop and internet through my personal hotspot via iphone. Login to your Backtrack linux and plug in the Wifi adapter,then open the new consol and start typing the following commands:.
Posted by Anuraj R on Make certain you are using a wordlist in the same language as the victim. You need to use aireplay to associate with the AP and -A on reaver argument.
Backtrack 5 – ARP Poisoning. I configure a hotspot on my Linux machine to act as an AP and try to crack the hotspot from other Linux machine using reaver but pazsword I get for more than 10 hours is just as below, any help:.
Check them out here. You would need to blast it with mdk3 in destruct mode to reset the lock.
I don't understand the advantages of cowpatty. So the personal Hotspot feature on the iphone is broken? Haven't seen the other Wi-Fi hacking guides yet? Because I'd like to use Ubuntu wiht well because that's my favorite distro. How about a screenshot? Its a misnomer to call them a wordlist as they include things other than words, but what else would you call them?
Ive loaded kali on usb,booted from it but only get as far as "detecting network hardware". BTW my backtrack backtracj don't have the tool bar.
Crack WiFi Password with Backtrack 5 ( WiFi password hacker)
If you don't have a word as a password. I'm operating Kali on USB: The right command line is reaver -b bssid of the router -i interface mon0 -c channel of the router -vv Ot WPA2 needs a wordlist.
Why would you want to use them together? It would flash up on in the top right corner but would disappear and I thought I had caught it when really I hadn't. It's been a whole months. U said galaxy s4 can use cowpatty if so please tell me how.
Backtrack 5 Breaking WIFI WPA2-PSK Keys ~ BackTrack network flaws Tutorials
Newer Post Older Post Home. So is there another way to get kali to run or what is the problem Iam having? One of the caps has the handshake. Note that the waiting time is between 10 minutes and up, depends on signal strength. Cowpatty now supports using a pre-computed hash file rather than a plain-text word file, making the cracking of the WPA2-PSK password x faster!
For this to work, we'll need to use a compatible wireless network adapter.
How can i solve this problems! If you are dealing with default ISP Password,use chart above.